Whether you're building a new house, remodeling, or considering window replacement, windows are an important decision, with a large price tag. As an architect, I have seen dozens of brands of windows installed and have observed the lifespan and customer service factors as well. Here is what you need to know in order to make an informed decision about your window purchase.
Lowest to highest price (in general):
• aluminum
• vinyl
• wood - primed interior and exterior
• fiberglass
• wood - stain-grade interior with primed exterior
• metal clad exterior with wood interior
Pros:
Aluminum
• narrow frame
• modern look
• "no maintenance" finish
suggested brands- Marlin
Marlin aluminum windows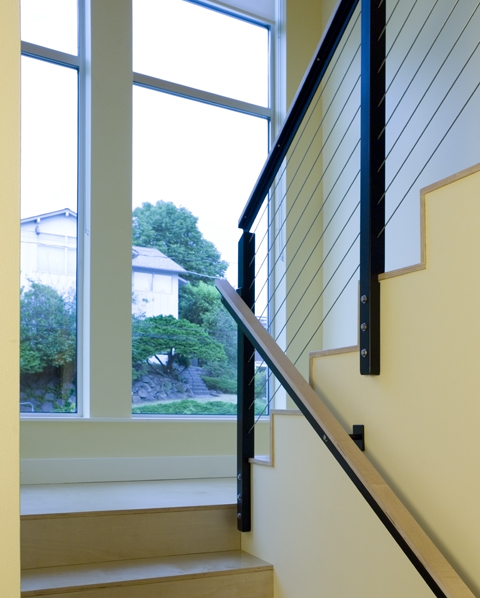 Vinyl
• "no maintenance"
• more energy efficient than aluminum
• inexpensive
suggested brands- Marvin, Pella, Andersen
Wood
• historic look
• material is insulative
• paintable
• less expensive than some fiberglass windows and all metal-clad windows
suggested brands- Marvin, Lindal, Cherry Creek, Pella, Andersen
Fiberglass
• paintable, or can leave exterior and interior unpainted for "no maintenance"
• some are insulated
• material is dimensionally stable, meaning that it doesn't expand and contract with temperature changes as much as vinyl
suggested brands- Marvin, Pella, Andersen
Metal Clad Wood
• "no maintenance" exterior
• option for primed or stain-ready interior
• finish weathers well, even in marine exposures
• return on investment (when compared to painted windows, the price gap is closed after only one re-paint)
• some brands are susceptible to fading of coating on exterior
suggested brands- Marvin, Loewen, Pella

Loewen metal-clad windows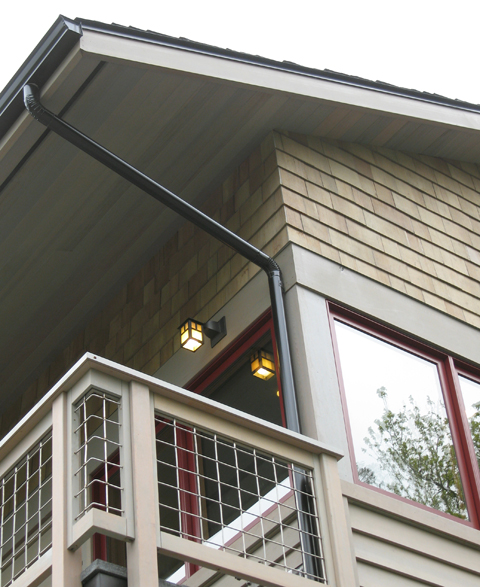 Cons:
Aluminum
• not recommended for painting
• same color exterior and interior
• most brands do not meet current minimum energy code requirements in Washington
• some units are not "thermally broken" - meaning that the metal conducts heat and can contribute to condensation
• some brands/lines have not undergone technological advancement since the 60's and are still on the market
• some metals are incompatible with others, and this must be taken into account if you will have other metals in direct contact
Vinyl
• limited color choices - mostly white and putty
• not paintable
• same color interior and exterior
• material is not as dimensionally stable, meaning that it will expand and contract with temperature changes more than some other materials
Wood
• more maintenance - need to repaint every 5-7 years in the Pacific Northwest region
• stain-grade interiors and exteriors are more expensive
• energy code compliant units typically have vinyl tracks or seals, which are not visually desirable for some applications
Fiberglass
• same color inside and outside, unless you paint one or the other
Metal Clad Wood
• higher price

Understanding the Technology
Some basic information about types of windows and doors can be found here:
Currently, the 2006 Washington State Energy Code (still in force by many jurisdictions) requires that windows have a U-value of 0.35 or better if following the prescriptive path of compliance, meaning that the percentage of windows is not limited as long as the U-value meets or exceeds the minimum requirement.
A window's U-Value is representative of the window's resistance to heat flow, and the lower the number the better the insulating value. This is the criteria that retailers highlight the most, but it is not a comprehensive evaluation of the window's performance. It is also important to know that different operations of windows will have different U-values. Although one manufacturer's fixed window may meet the minimum code-required U-value, it's operable units may not. This does not necessarily mean that you will not be able to use them, but it does make it more difficult to achieve and demonstrate compliance. More information about selecting energy efficient windows in Washington can be found here:
Efficient Windows Collaborative, "Fact Sheet: Selecting Energy Efficient Windows in Washington," Sept. 2007.
National Fenestration Rating Council, "Questions About Buying New Energy Efficient Windows?", Nov. 2002.
You should also be considering window's structural performance rating, particularly if your house is exposed to high wind speeds and/or driving rains. The structural performance rating is a measure of the amount of air pressure, or wind load, a window can resist before failing. Homes with significant exposure would benefit from a higher than minimum structural performance rating, as those windows are more resistant to wind-blown water intrusion.
The different structural classifications are defined and certified by the American Architectural Manufacturer's Association. To read more, visit www.aamanet.org and review their brochure.
Proper Installation is Vital
Consider your windows as important to your home's health as the condition of your roof. Windows should be installed by qualified contractors, able and willing to identify and remedy any rot and flashing issues. You should anticipate and budget funds beyond the quoted cost of the windows and simple installation to be able to correct any deficiencies that are discovered as well as replace interior trim and casings, repaint, and/or touch-up drywall.
"Replacement windows" are NOT the same as replacing windows with new units that have a nail flange and are properly flashed. You may be better off keeping your old windows and considering ways to reduce infiltration, rather than allowing "replacement windows" to be set into a bead of caulk which will be prone to failure.
What about the tax credit?
To find information about the federal tax credit for energy efficient windows, doors, and skylights, visit www.energystar.gov.